handmade in Holland
Reviewed: Fabric Basket
Triangles? Polar Bears?  A print with both in subtle shades of purple, lilac, and yellow on a natural background. Luisa uses organic cotton and organic cotton canvas for this fabric basket.  A 6″ by 6″ size for storing all kinds of little things. Right now it's holding some back-to-school supplies. But who knows what else I might use it for.
Purposeful for kids, big people, and polar bear admirers♥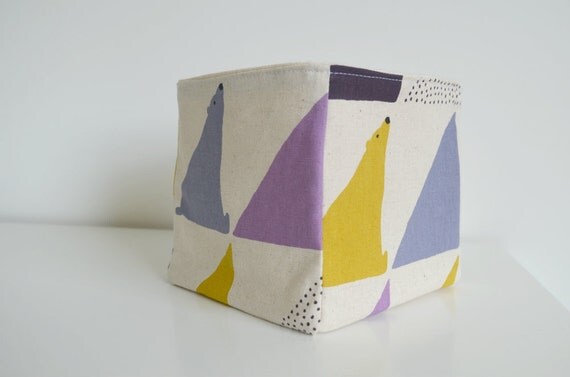 LOTS of other great prints. And MORE more than baskets. Check out the entire Etsy store inventory http://www.blota.etsy.com (Custom orders available)
Handcrafted and Eco Friendly in Holland
After 5 years working in Marketing, I decided to change gears, quit my job and stay home with my, then, 4 month old daughter. I have never looked back!

Seven years, thousands of hours of sewing and two daughters later, I am still as happy to be home, look after my family and create beautiful items, made with gorgeous prints!

I let the fabrics inspire me and determine what I make! I love picking out pretty and colorful fabrics and then mixing and matching them to carefully create beautiful, simple products.

Caring for the environment is very important to me and so I try to use as much eco-friendly materials as possible, be it organic or vintage fabrics or sewing notions, recycled/recyclable packaging.
Notes From Dawn received a fabric basket from B*LOTA in exchange for an honest review. A positive review is not guaranteed, and all opinions are my own. No other compensation was received.