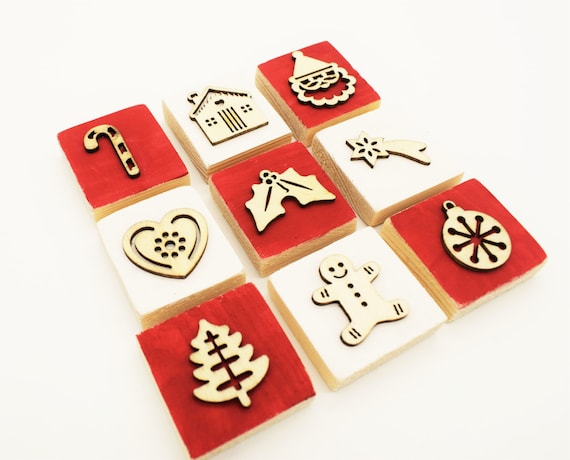 Our festive Christmas Stamp Set is perfect for crafting unique and quirky seasonal cards, pictures and gifts. With cute gingerbread men and magical shooting stars.

Our customers often use these for also printing on to fabric such as bags or cushions.

Each stamp measures 3.5cm x 3.5cm and are made to a high standard for use time and time again.

For best results use with pigment ink. Place your card, paper or fabric on a magazine or piece of folded fabric before stamping. This softens the surface under your project, leading to a better stamp result. If you prefer a more vintage or faded look, place your card, fabric or paper directly on to a work surface.
Pretty assortment of holiday designs for getting festive & creative. Great gift idea, too. Handmade by Lara in Seaford, United Kingdom. You can also get a snowflake set and a baubles (ornament) set. I personally like choosing an option that's not made in China. My little one and I are looking forward to spending an afternoon getting into the holiday season with these fun stamps (and a hot cup of coffee).

Craft and unique gift shop
Lolli Loves Esty store provided this stamp set to help facilitate the writing of an honest review. A positive review is not guaranteed, and all opinions are my own. No other compensation was received.