The Color Wheel Company manufactures and sells a large selection of color wheels, color mixing guides, color charts and color tools for artists, crafters and ho

me owners of all skill levels. Review our Color Wheels, Magic Palette Color Mixing and Matching Guides, ViewCatcher, Gardener's Color Wheel, Watercolor Wheel, Interior Design Wheel and CMY Primary Mixing Wheel, Pocket Guide to Color Mixing and others. All designed to help the user better understand color theory, color relationships and color mixing.
These are perfect for use in the art classroom. Useful for teaching and learning about color theory. Manufactured in United States.
Their traditional color wheel is available in a standard size (9″ diameter) and a pocket size.  A kids' version of the color wheel is called the Colorsaurus. This dinosaur wheel is super cute and handy at showing how color mixing works.
The Create A Color Wheels are designed for you to color and assemble your own color wheel. Instructions are included on how to make your wheel. I haven't tried this yet, but looks like fun. 
🖌And very helpful for the watercolor artist is the Watercolor wheel. As a beginner in watercolor, I think this thing is brilliant.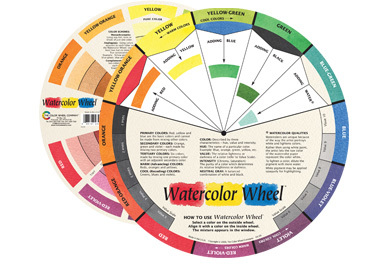 All the wheels are a nice size and rotate smoothly. They are sturdy and should last for many uses ツ
The Color Wheel Company provided these products to help facilitate the writing of an honest review. A positive review is not guaranteed, and all opinions are my own. No other compensation was received.