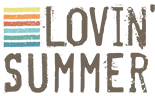 a beautiful, smart way to protect from the sun. I highly recommend
100 % cotton canvas fabric measuring 10.8 feet x 5.9 feet
the design allows the breeze to blow through
lightweight makes it easily portable in a zippered bag (weighs only 9 pounds)
easy set-up. All ropes already connected
sand and grass pegs for either sand or grass setup
natural sun protection in six fashionable print styles
South Beach 
Please watch the setup video available to view from the Lovin' Summer website's main page.
Unlike any other beach shade products on the market today, we designed our Lovin' Summer beach tents to put an end to uncomfortable shade protection, without the complicated knots and instructions like the majority of freestanding or "pop-up" beach tents available today.

Driven by our passion for the beach, our beach shade products have combined coastal style with practical design to create a simple innovative product that looks great, offers maximum light, airflow and UV protection.
Lovin' Summer provided the South Beach Tent to help facilitate the writing of an honest review. A positive review is not guaranteed, and all opinions are my own. No other compensation was received.