KOOSHOO is an eco-friendly headband and accessories brand created to help others feel good (KOOSHOO literally means "feeling good").
This is an organic cotton twist headband. Wear it dressed-up or wear it for a work out, this is designed to be styled a multitude of ways.
KOOSHOO face covering statement  "Please note that the headband is primarily designed to work as a headband and the mask function is really just for when needed in a pinch."
In addition to a headband and face cover, this twist headband is wide enough to cover over the head for sun protection. And if a little shut eye is needed, it can serve as an eye mask.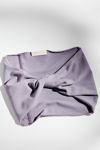 92% GOTS certified organic cotton, 8% spandex. Proudly made in the USA. One size, ten colors. 
I have used the KOOSHOO twist headband for all the above mentioned uses and just love it! It would make a great little gift for just about anyone. 
Choose to support small, conscious businesses like KOOSHOO.
KOOSHOO provided twist headbands to help facilitate the writing of an honest review. A positive review is not guaranteed, and all opinions are my own. No other compensation was received.