Product Overview:
Toggle Toes™ were uniquely designed to stay on little feet with the secure toggle fastener. Tested on dozens of babies and mother approved! The non-slip sole is made with high quality Toughtek™ and will allow your child to "feel" the floor while learning how to walk. All this while keeping them warm and comfortable.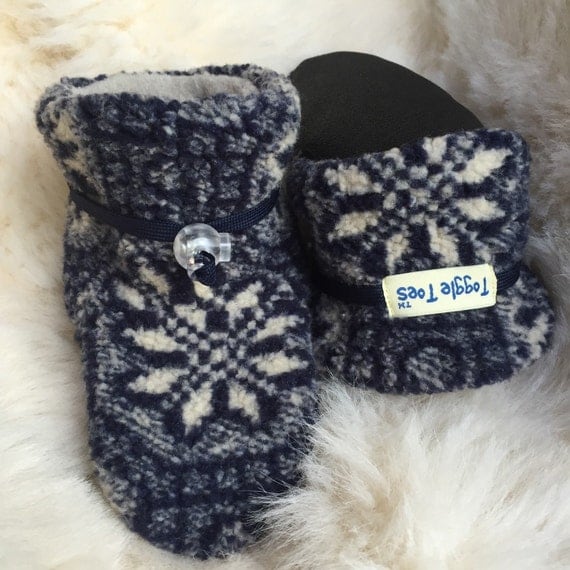 Review: 
My reviewer has worn/tested a pair of Toggle Toes in preschool size (shoe size 7 -8).
These blue and cream Berber fleece slippers have been very user/mom friendly. They are easy on and easy off.  The toggle closure can be loosened and tightened for the best comfy fit. And this toggle system "ensures that the booties only come off when you want them too".
Indeed, they have stayed on for bedtime and for all sorts of indoor play keeping reviewer's feet warm. They have a safe non-slip (hardwood floor tested) flexible sole. And are machine washable (not washer tested yet. will update with results)
Easily available on Etsy in many sizes and fun fabric styles. You can also read more about owner Beth Rekstad and how Toggle Toes started.
Did I mention that they're "Eco"?  Toggle Toes are a handmade item made with recycled wool sweaters and/ or polar fleece. And the workforce behind Toggle Toes? Beth has shared with me that she "approached a Hmong church in my area and have trained about 8 women to cut & sew my booties. Most have children at home and are still learning English. They are wonderful, hard working and talented women. It gives me joy to provide employment to them." Her goal is also to donate profits in the form of booties to kids in need. wow!
Notes From Dawn received a pair of Toggle Toes slippers in exchange for an honest review. A positive review is not guaranteed, and all opinions are my own. No other compensation was received.